Elearning Retirement Plan Administration Training Course 1
Fundamentals of Retirement Plan Design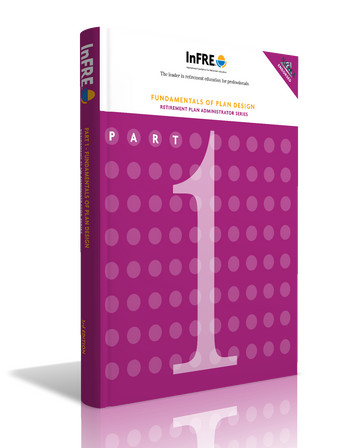 Part 1 of InFRE's Retirement Plan Administration Training Series will provide you with comprehensive knowledge of the various types of retirement plans available to private and public sector employers. This material will help all parties involved with this benefit program – from employers to third party providers – understand the issues to consider when putting a plan into place and maintaining it to be compliant with federal tax laws and regulations, and to meet the changing needs of employees.
In this course you will gain an understanding of the origins of employer-sponsored retirement programs and how they have changed over the past 50-plus years. The various tax laws and regulations that govern these plans are also explained as well as current trends and issues that are having an impact on the industry and retirement professionals.
You will finish the course with a thorough understanding of the various types of retirement plans – qualified versus nonqualified, defined benefit versus defined contribution, etc. – and how they differ. You will be able to examine the pros and cons of each arrangement from a legal and regulatory perspective as well as the benefits each can provide to the employer and their workforce to identify which plan type is most appropriate for a specific audience.