CRC® Exam Preparation Study Materials
To help Candidates prepare for the CRC® examination, InFRE offers a set of five study guides. These study guides were developed over a two-year period in accordance with the academic guidance of the Center for Financial Responsibility at Texas Tech University.  The CRC® content is unique in that it not only covers retirement planning accumulation and distribution concepts, but also how to counsel clients and plan participants based on behavioral finance tendencies, different communication styles and gender/generational considerations.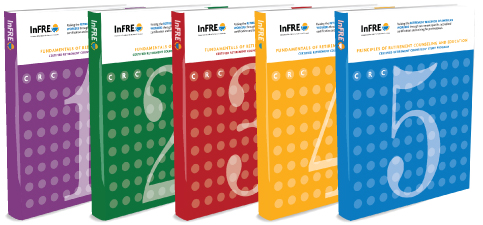 The five CRC® study guides include:
See a preview for any of the study guides by selecting from the list above.
When purchasing a set of all 5 CRC® study guides, to help confirm an understanding of important concepts you will have access to:
Quiz questions at the end of each chapter
18 hours or prerecorded elearning review courses. View a sample.
Over 300 practice exam questions.
Contact us for more information about group discounts. If you have questions regarding the optional educational resources offered by InFRE, please call 847-756-7350 ext. 134.
Note: Candidates are not required to purchase study materials offered by InFRE or any other source and you may determine your own study path to prepare for the CRC® exam. When purchasing InFRE study materials, there is no advantage given to CRC® Candidates related to meeting eligibility requirements, scheduling an exam or any other certification related policies and procedures. 
Continuing Education Credits Available
All five CRC® study guides are approved for CRC® CE credit. For more information on CE credit opportunities, link to the individual study guide descriptions below.
CRC® Study Guide Descriptions:
The CRC® five-part print study guide series will be a comprehensive and cost-effective CRC® exam preparation resource that you will refer to long after you have become CRC® certified. Purchase all five guides at once and receive a $95 discount while also saving on the cost of shipping study guides individually.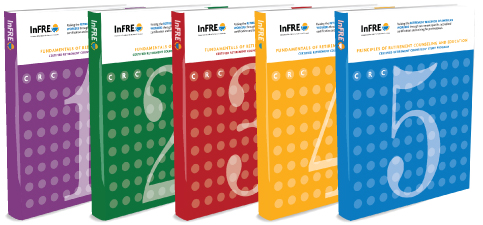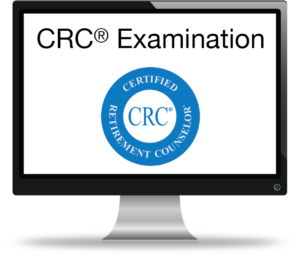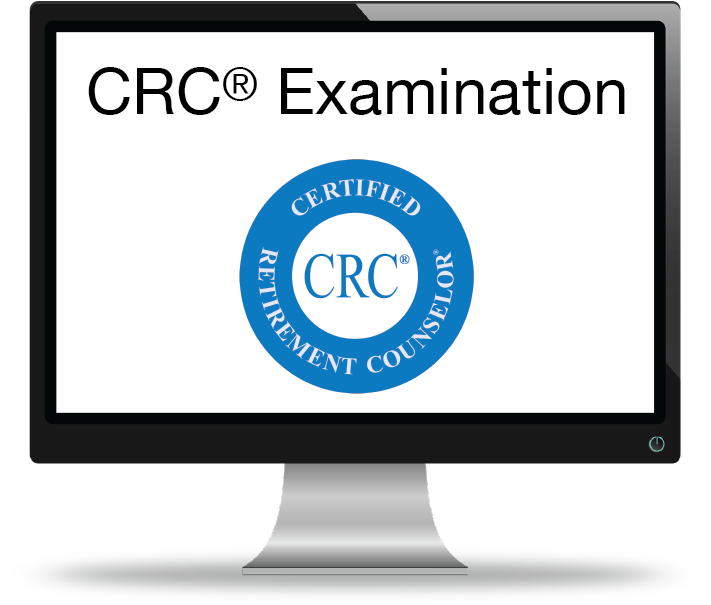 Purchase your CRC® five-part print study guides and pay your exam fee now to save more!
The CRC® exam fee is $575 and may be paid separately at the time you are ready to schedule your examination.  Save an additional $100 on all five study guides when purchasing your study guides and paying the exam fee at the same time. ($575 exam + $440 study guides = $1,015 total cost).
Save $195 on study guides
CRC® Course 1: Fundamentals of Retirement Planning
Establishes the foundation for the CRC study guide series by providing techniques for understanding the broad variety of factors that can affect a client's/plan participant's retirement goals.
CRC® Course 2: Fundamentals of Investments
Provides a comprehensive review of investment products and presents investment concepts that are critical to effective retirement counseling.
CRC® Course 3: Fundamentals of Retirement Plan Design
Covers concepts needed to guide your clients/plan participants in maximizing assets within different types of retirement plans and understanding Social Security benefits.
CRC® Course 4: Fundamentals of Retirement Income Management
Presents a well-developed retirement income planning process that will help you help clients/plan participants shift from retirement accumulation planning to retirement distribution planning.
CRC® Course 5: Principles of Retirement Counseling and Education
Provides the finishing touches for becoming a true retirement "counselor" in every sense of the word by exploring how to communicate with various personality types and deliver educational content using a variety of media.
Refund Policy
Study guides may be returned in unused condition within ten business days from the date of receipt. No refunds will be granted when study guides are returned more than ten business days from the date of receipt or in damaged condition.
For questions about the exam procedures or to pay your exam fee by phone, call 847-756-7350 ext 134.