Elearning Retirement Plan Administration Training Course 4
Fundamentals of Compliance and Ethics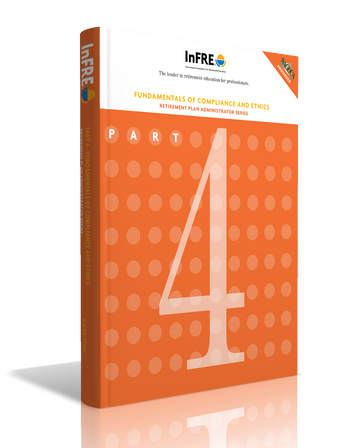 Part 4 of InFRE's Retirement Plan Administration Training Series is designed for individuals who have a responsibility for a public sector retirement plan either a defined benefit pension, generally considered a primary retirement plan for state and local government employees, or a defined contribution plan, most often considered a supplemental plan. These include Section 457(b), 403(b) and 401(k) plans.
This course provides a basic understanding of what is required to ensure the retirement plan is in compliance with federal tax laws and the ethics that should be adhered to necessary for all parties responsible for the program and, in particular, those who have a fiduciary role, such as plan administrators, board or committee members and other fiduciaries.
You will be introduced to governmental regulation and the specific compliance requirements regarding plan form and operation that pertain to public sector plans, fiduciary roles and responsibilities to participants and beneficiaries, available IRS Corrective Programs, general reporting issues, the role of independent professionals in plan operation, and ethics for retirement administrators.
Government Regulations and Fiduciary Responsibilities: Ch 1 – 2 *1.5 hour of CRC® CE Available*