CRC® Course 1: Fundamentals of Retirement Planning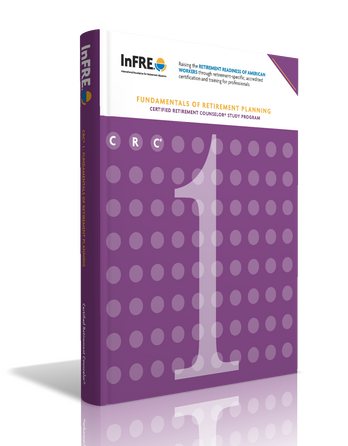 Course Description:
CRC® 1 establishes the foundation for the CRC® study guide series by providing techniques for understanding the broad variety of factors that can affect a client's/plan participant's retirement goals. The course features methods for motivating and educating clients/plan participants on the need to save for retirement, and the importance of taking personal responsibility for their own financial futures.  By taking a close look at how to plan for retirement at different career stages, there is an emphasis on how the basic tools of financial planning can be used to best prepare for retirement.
Topics included in this study guide include:
Retirement planning life cycles
Retirement readiness for both financial and non-financial issues
Retirement mindsets and behavioral finance
Financial goal setting
Risk management
Medicare
Tax and estate planning strategies
Elder care
Financial elder abuse
Continuing Education Credits Available:
Approved for 7.5 hrs CRC® CE credits. All CRC® study guide CE quizzes are free. Certificants may not apply CRC® study guides toward CE credit for their first CRC® renewal period after becoming certified and may not submit the same quiz for two consecutive CRC® renewal periods.