CRC® Course 5: Principles of Retirement Counseling and Education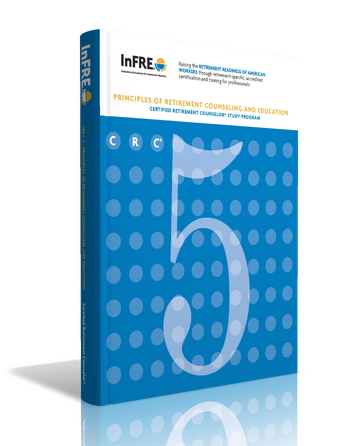 Course Description:
CRC® 5 provides the finishing touches for becoming a true retirement "counselor" in every sense of the word by exploring how to communicate with various personality types and deliver educational content using a variety of media. This course focuses on the "counseling" aspects of how to be a retirement counselor by using effective communication and education.  After completing the course, you will be well-prepared to identify nonverbal communication cues and how to consider gender and generational characteristics when counseling your clients/plan participants. Fiduciary responsibilities and the CRC® Code of Ethics are also covered.
Topics included in this study guide include:
Defining characteristics of today's generations
Communication styles
Gender considerations
Basic processes in counseling
Nonverbal communication
Effective inquiry
Education
Advice
Learning stages and styles
Common communication and education tools
Ethics
Fiduciary responsibilities
Working with other professionals
Continuing Education Credits Available:
Approved for 3.5 hrs CRC® CE credits. All CRC® study guide CE quizzes are free. Certificants may not apply CRC® study guides toward CE credit for their first CRC® renewal period after becoming certified and may not submit the same quiz for two consecutive CRC® renewal periods.